Domain name registration is an important step for any business. Almost all businesses need to be online even if only for PR. Sometimes business owners don't have all the information in order to take a decision regarding a Domain Name. This happens because of high level of technical information, not enough literature on the subject, and a lot of time misguided information.
What is a Domain Name?

Every domain name contains two or more components separated by periods, called "dots". The last part of the address, (com, net, org, us, ca, uk), is called the "Top Level Domain". The second part of the domain is what the "Second Level Domain". Examples of Second Level Domain are: com.uk, or on.ca. The Second Level Domains are a great way to organize geographically or functional the Domain Names, (on.ca for example is the SLD for Ontario – Canada).
It is also possible to have sub-domains such as "subdomain.yourdomain.com". I own, for instance, www.head-massage.net. I could choose to split my traffic and content between multiple websites and assign them different sub-domain names such as: practitioner.head-massage.net, directory.head-massage.net, articles.head-massage.net, etc… That is a Web Marketing or technical decision.
A domain name is hierarchical and most common offers information about the type of entity using the domain name. However, for an additional charge, you can choose to keep that information private.
Why do we need a domain name?
A domain name is always needed when you want to be present on the web. It is a way to translate your server's address into a nice looking address. Who can remember a web address like 192.168.196.231? Not me… For me, and most of us, it is easier to remember a name like dorianblog.info.
Your Domain Name is your property on the Internet. It is the name of your space on Internet. Since it represents you and your company you want make it look good.

Marketing and PR are other two major reasons. You want to brand your Web Site and personalize it.
Search Engine ranking is another reason. There is been a lot of discussions on this subject and it seems that Search Engines such as Google, Yahoo, Bing, etc. are taking in consideration the domain name of your website in their ranking algorithm.
Trademark protection is so important these days and if you don't use a domain name that sounds like your company name someone else will use it, and reap off the benefits.
How to choose a good domain name
There is no absolute formula for choosing your domain name but there are some guidelines. These guidelines along with a good Marketing strategy, can give you an idea of what domain name or names you should choose.
Some of the guidelines are the following:
Try to make your domain name as short as possible. This makes it easier to remember and get the attention of your visitors.
It has to be as short as possible. People have to remember the name easily.
It has to have a meaning, something that people can relate to easily. You can't name your website tmmfalfbte.com because this is the acronym of your book: "The Massage Manual For All Levels From Beginner to Expert".

It has to be related to your company name or to your products or to a specific Marketing Campaign.
I have dorianblog.info, (my name + blog), and the other one is head-massage.net, (obviously the name says it all is about Head Massage). If I had enough money and energy to finish my project to write a book about massage I would promote it through an alternate website, (part of my Marketing Campaign), let's say learntomassage.tv which is not yet registered.
This last example leads me to the next question what TLD, (Top Level Domain), should I choose. If you can, stick to the designation of the TLD. For example .com is for commercial institutions, .org is for noncommercial organizations, etc… But this isn't extremely important.
Other TLD, (Domain Name Extensions), are:
.edu — for educational institutions, (you have to prove you are an educational institution and are allowed only one name), .net — for network infrastructure providers, (the initial designation has been lost),
.gov — for governmental entities in US – restricted,
.mil — for military entities in US – restricted,
.int — for international treaty organizations – restricted and very tight controlled.
On top of these there are Country Code Top Level Domains, one per country, such as .us for USA, .ca for Canada, .mx for Mexico, .fr for France, etc.
New domain extensions are .tv, .aero, .biz, .coop, .info, .museum, .name, .pro and many others.
Some of the CCTLD Registries require you prove that you operate or live in their country in order to approve an application for a Domain Name. Some others have even tighter rules requiring you for example a Trademark for the name you request. This however is changing and there are less and less restrictions.
There are new extensions that don't fall in either of these categories they appear, because there is a demand.
What if my Domain Name is taken?
There are a lot of ways to get around. First of all if your name is taken and you registered a trademark you can go to court and fight for your name. As a first step you can ask the owner to sell you the name for a reasonable price. If this doesn't work you can ask the registry to arbitrate this. You can hire a trademark lawyer to solve this for you if none of the previous worked.
If you don't have a trademark for the name is more difficult but basically you can try all of the above.
If you know you can't win, choose something very close, use hyphens or numbers. Hyphens are better. My domain name is head-massage.net and is well positioned in rankings and search results. You will hear a lot of people saying that is better to have all letters Domain Names. I am not sure about that.
Try to use another extension, with so many choices these days, it is almost impossible to not find one available.
How Many Years Should I register my Domain Name?
The longer you register your Domain Name the better. There are a few reasons for that. First of all is convenient to know that you have done it and you don't have to do it for another few years. Then, some search engines give you some extra points in their rankings if you register for longer periods. That means you are serious and you plan to be there for a long time.
If you register for 5 years you get a great discount, most of the registrars give you the best discount for 5 years. If you register for more than 10 years, your investment might become wasted, the technology changes so fast. For instance there are discussions about completely customized Domain Names. That will render obsolete the actual Domain Names Market. I could, for example, buy the domain name head.massage.
How to protect my Domain Name and my Trademark?

Register your Domain Name in multiple TLD's. This prevents Cyber-Squatters to register your name and take advantage of it.
Register a Trademark; this entitles you to dispute domain names using your Trademark.
Keep an eye on the Internet for any new names related to your Trademark. There are companies that offer these kinds of services.
What is a registrar and what is a registry
A Registrar is usually a company that handles Domain Name registration. They are an interface between you the registrant and the Registry Administrator.
The Registry Administrator, (sometimes called for short the Registry), is the authority that administrates a TLD or more and the database with all the Domain Names. Examples of Internet Registration Authorities are the country code Top Level Domain administrators, such as DENIC in Germany, or Nominet in the United Kingdom, or CIRA in Canada, which are the Administrators for the .de TLD and .uk TLD, or .ca in Canada. Most of the Registry administrators will choose to deal with you through Registrars, but some will allow you to purchase your names directly.
The Registrant is the owner of the domain – You, your Company, your boss, etc…
How to choose my Registrar
Your registrar is an important thing since you will have to deal with him a lot. The Registrar Market is constantly changing, however big registrars are the most likely to survive over time, which is critical for you as a domain name owner.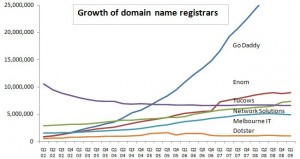 The Domain Name administration is not an easy task and sometimes involves technical knowledge. Usually, when you buy a Domain Name you also buy some services with it. These services are some or all of the following:
DNS hosting – is usually free with domain name purchase, there are still a few companies that charge for this kind of service. Without a DNS computers will not know where to direct the requests for your website.
Web forwarding – very few companies give this as a free service. This is an advanced feature that let you specify that all the requests for a certain web-address should go to another web-address. That is handy if you purchased another company and want to redirect all the traffic from this company to your website.
Website hosting – basic web site hosting is provided with a Domain Name purchase by some Registrars. For a starter the free this is a good option but this is going to give you a limited space and limited number of pages. On the other hand many companies will give you a free domain name registration if you purchase any hosting package.
Make sure you choose a good and established Registrar that offers you the features described above.
Good technical support is another key element. Cost is probably one of the most important elements for many of us especially if it's a starter website. But don't try to go too cheap, because you will end up by paying more…
Good Domain Name Registrars and Web Hosting companies are:
GoDaddy.com – World's No.1 Domain Name Registrar , I am hosting one of my websites with them and I registered hundreds of domains for other companies. They have great prices for domains and if you know how to choose the web-hosting can be free to cheap. They have discounts and promotions all the time it's up to you to register when you get a promotion.
HOSTMONSTER.COM – great Domain Registrar and Web-site Hosting I am hosting two of my websites with them and they have a good up time and the Control Panel used to administrate the websites are great.
What else Do I Need to Know when I Register a Domain Name?
When you, or someone you designate, register a domain, make sure you are the Administrative Contact in the registration record. The Administrative Contact has the authority to make any changes, transfers, etc… The technical contact is someone that makes technical changes such as IP address changes, etc.
Make sure all the details in the registration are correct, such as address, company name, etc, otherwise it is a real hassle to change this after creation.
If you register with a TLD Administrator, and not with a registrar, you have to provide at the registration time the IP address of your server. Many times this is difficult to change and is not free.