Today's computers are under a constant assault of viruses and other malware. We all need to have up to date Antimalware software to protect our computer. Buying antivirus software and subscription could be expensive because you need to update your subscription yearly. However there are free options for your computer's security.
What is Malware?

Malware is a general term for any software designed with the intention to affect negatively a computer or to steal private information.
Malware includes computer viruses, worms, trojan horses, rootkits, spyware, adware, crimeware and other malicious software.
There is a misconception that only Windows operating systems are affected by Malware. However, this isn't true. Mac's and Linux machines are affected as well. There are not as many viruses written for Mac and Linux machines, but this is mainly because of their popularity as Operating Systems. Windows OS is the most popular therefore many Malware programmers exists.
Today a computer without an antivirus is extremely vulnerable. Especially if the computer is connected to Internet or and exchanges files with other computers, which is the case of most of the computers today. More than that, nowadays an antivirus is not enough for avid Internet users. There are so many types of threats that an antivirus alone will not protect you entirely. All computers should have an up to date Antivirus and Antispyware as a minimum. Sometimes, websites that seem inoffensive can infect your computer with spyware, Trojans or even computer viruses.
Some websites will create deceiving pop-ups to mislead you in believing that your computer is infected. An action is requested on the next step asking you if you want to scan your computer. Many times you don't have the choice to refuse this action as the pop-up special crafted and you cannot close it. The best thing to do in this situation is to save all of your work and logoff or reboot your computer. Advanced users can alternatively kill the task from the task manager.
Free Antimalware
There are a few good choices for people who don't want to pay for their computer security. There are free antivirus, free antispyware, free personal firewalls, and free anti add-ware. The vast majority of them are only free for personal use. In other words, if your computer is a company computer you should buy a license.
Don't forget that you need to have at least an antispyware, an antivirus, and a firewall to be protected, or software that combines all of them.
Firewall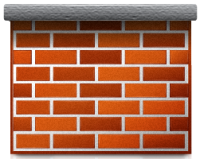 A firewall is a must for any laptop, since connecting your laptop in other networks puts a serious threat on the security of your computer. Depending on how your home firewall is configured, if you own one, you might need a firewall on all of your home computers.
A basic firewall is included with all modern operating systems so you don't need to buy one. However, if you need a more advanced personal firewall that gives you a very granular control of all your network and Internet activity, in and out, you should consider the free Sygate Personal Firewall, or Online Armor Free, or Comodo firewall which is part of the Comodo Internet Security suite, or Sunbelt Personal Firewall.
Antispyware
Spyware is one of the most common Malware today. Spyware can range from almost inoffensive pieces of code to software that will damage your computer and make you lose data or steal private information from your computer. A computer without an antispyware protection will be, sooner or later, affected by spyware.
There are a few free Anti-spyware products on the market. I will first mention the free for anyone "Spybot-S&D!". It is a good antispyware with a long history on the Market. You need some computer knowledge to configure it for best results. If you need a scan only free Anti-Spyware it's one of the best choices.
Ad-aware, the known anti add-ware has evolved to an antispyware program. There is a free limited version.
Windows Defender is Microsoft's antispyware solution. Windows Defender is now part of the operating system with Windows Vista and Windows 7. There are Free, (for Personal Use), Security Suites that include antispyware as part of the bundle. See the Security Suites for more antispyware.
Antivirus

Antivirus has always been a must for any computer that exchanges data with other computers in any way. There are viruses that can even render your computer useless. For instance the virus CIH will corrupt your computer BIOS. The BIOS chip is essential for starting your computer. Other viruses will trash all your hard drive data.
Free antivirus programs exist on the market. ClamAv is a free, open source, antivirus for both personal and commercial use. Other free for personal use Antivirus include Avira Antivir, Kaspersky Anti-Virus free edition, Norton Security Scan and eTrust EZ Antivirus as a one year trial. There are also free online scanners, many antivirus manufacturers provide an online scanner for free.
Security Suites
Security suites are sets of Anti-Malware programs designed to protect against more than one threat. They can contain an Anti-Virus, an Anti-Spyware, Anti-Phishing, a firewall, an Anti-SPAM, as well as other protections against Malware. They are the choice of most of us since they are easy to administrate and don't require advanced computer knowledge.
Very popular Free Security Suites are AVG, Avast, Comodo Internet Security, Google Pack – a collection of software that includes an antivirus and an Anti-spyware and Microsoft's Security Essentials.
As you see, there are a lot of free choices, so not having an up-to-date Anti-virus and Anti-spyware is free if you can't afford to pay for one.
Share you thoughts about Internet Security and your choice of Antivirus.